How to Cook Perfect Jerk Chicken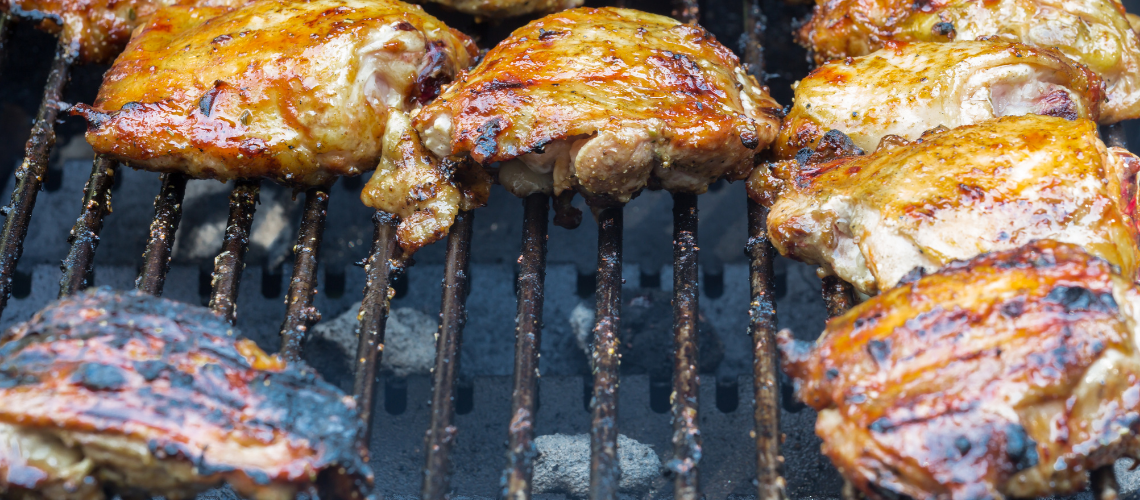 Jerk chicken for dinner accompanied with a bean salad and greens, Woah! The best dinner ever for a Jamaican is a Jerk Chicken. Ahh.. your mouth starts watering immediately! Mesmerizing thoughts of Caribbean life, tropical weather, sun, and music, fill your heart and mind as you visualize the Jerk Chicken dish.
History
Though it has its origin in Jamaica, you will find Jerk Chicken being offered in many countries in the Caribbean. The Jerk Chicken is cooked using a Jerk process for its grilled and smoky flavor. You may find variations of the Jerk dish cooked with pork, beef, lamb, or boar. So many variations, wow! Exciting, isn't it?
History mentions that the Jerk Chicken owes its origins to the Taino people, Cuba, Hispaniola, and Jamaica. Additionally, they had also inhabited the Bahamas, Puerto Rico, and the Lesser Antilles (northern part).
'Jerk' has its roots in the word 'charqui' (Spanish), which means strips of meat that are dried. It is similar to today's 'jerky' meat sold in the Caribbean markets.
Best eaten with side dishes of rice, beans, and other greens, the pungent and tangy taste of the Jerk Chicken is unique.
The Jerk Process
An interesting process that gives you the finger-licking Jerky flavor comes from the slow grilling of meat over coals. First, the cleaned meat is coated with a thick layer of marinade made from various spices, including allspice and the Scotch bonnet peppers. These peppers have a strong resemblance to the habanero chili peppers. Next, the meat is poked for holes to absorb the marinade and make the meat succulent.
Traditionally, the meat is cooked over a slow grill as it is placed over green pimento wood. For those who know, the green pimento wood has a unique and distinctive flavor.
Interesting Trivia
The Jerky cooking method evolved in 1600 AD as the Caribbean was ruled by the Spaniards, followed by Britishers. African slaves brought to work in the Jamaican plantations used this method of cooking. As they escaped slavery, running away to central mountains, they hunted for food. African slaves often hunted boars in jungles for food. Soaked in marinades and preserved until they needed it, the African slaves continued in hiding. They would take chunks of meat as needed and cook it over coal. The cooking was carried out in holes dug for this purpose and covered to avoid smoke being visible from far.
This is how Jerky cooking was passed down from generations. Interesting facts, aren't they?
But Why Only Pimento Wood?
The distinctive flavors of pimento green wood add a pleasant taste. Pimento wood comes from the laurel tree.
The meat is cooked placed directly over the wood's surface, absorbing oils from the greenwood. Then, coals are lit, and the meat is covered for infusing the smoke from coal and pimento wood. Amazing.
Buying Pimento Wood
You can easily get Pimento wood in the USA from buypimentowood.com. One of the best–in-its-class and offering you high quality, original pimento wood chips flavored with allspice, is shipped in from Jamaica for your culinary pleasure.
Jerk Chicken Recipe
While different folks cook it in different ways, the most common traditional recipe is as follows:
Preparation time: 6 to 8 hours
Cooking time: 25 minutes
Serves four people
Ingredients:
2 onions (small to medium-sized) cut into large chunks
½ bunch of fresh green onions finely chopped
1 Scotch bonnet pepper with seeds removed and chopped finely (see tip 1)
50 gms of finely chopped garlic
3 to 4 Allspice whole pieces or roasted and powdered
Add thyme, nutmeg, and salt to your taste.
1 tablespoon of vegetable oil
3 pounds of chicken, preferably with bones in (use chicken drumsticks for best finish)
Instructions:
Making the marinade
Take the bowl of a food processor.
Add all ingredients except the chicken.
Finely grind all ingredients in the food processor until they turn into a thick paste.
Marinating the chicken
Take the chicken thighs.
Rub the marinade into the chicken. Do not use marinade injections, as this will not be the authentic way of cooking.
Marinate the chicken for at least five to six hours.
Cooking
Prepare the outdoor grill by placing charcoals in the grill.
Add the pimento chips over the coal.
Place the grill or grates, already well oiled.
When the grill is up and ready (scorching), slowly place the marinated chicken pieces on the grill.
Cover the entire grill and let the chicken cook.
Turn once or twice and check the doneness for twenty minutes or more.
Remove to serve hot.
Tips
Scotch Bonnet peppers are extremely fiery. They burn eyes and lips. Use caution while handling them. You may prefer to use rubber gloves or oil your hands before handling them. After using them, immediately wash your hands and pat them to dry.

Some folks like to add ginger and some other herbs to add to the flavoring
Modern World
Don't be surprised to see Jerk Chicken seasonings and sauces available in your local grocers or superstores. As folks get busier at work and yet want to savor the wonderful taste of the yummy Jerk Chicken, they are going for Jerk seasonings and sauces.
While not a bad idea, they have no clue what they are missing when they haven't had the original Jerk Chicken flavors and cooked over pimento woods.
Here is a tip for the folks wanting to stay healthy. Use lean chicken instead of regular chicken for the best taste and low calories.
What's cooking for dinner tonight? I am sure it is Jerk Chicken with Brown Rice and Red Beans Salad for dinner tonight!