Black Eyed Peas Recipe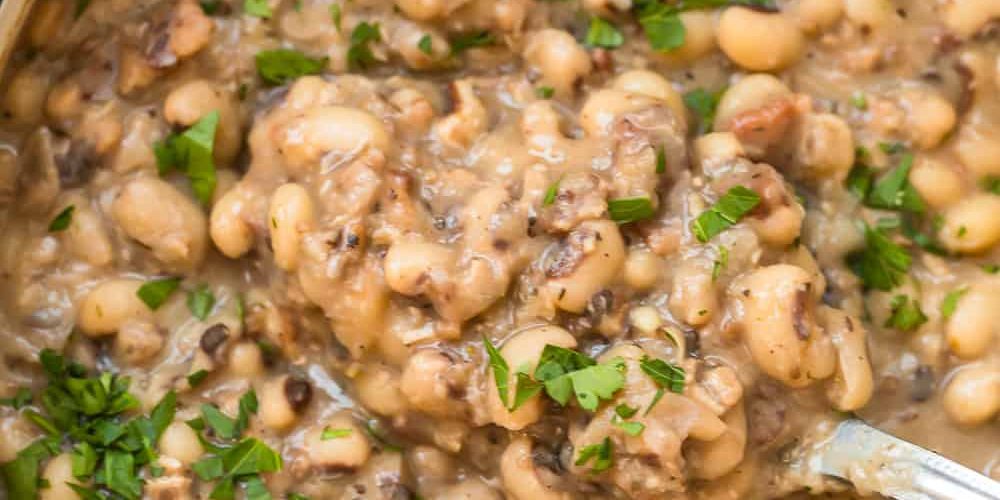 Ingredients
| | | |
| --- | --- | --- |
| Extra virgin olive oil | | |
| large yellow onion, chopped | | 1 |
| garlic cloves, chopped | | 4  |
| green bell pepper, chopped | | 1 |
|  carrots, peeled and chopped | | 2 to 3  |
| diced tomato | | 1 15-oz can |
| water | | 2 cups |
|  dry bay leaf | | 1  |
|  ground cumin | | 1 1/2 tsp.  |
| dry oregano | | 1 tsp.  |
| paprika | | 1/2 tsp. |
| Kosher salt and black pepper | | |
|   red pepper flakes, optional | | 1/2 tsp.  |
| black-eyed peas, drained and rinsed | | 2 15-oz cans |
|  lime or lemon, juice of | | 1 |
| chopped fresh parsley | | 1 cup  |
Black eyed peas are one of the famous and delicious Arabic recipes. Black-eyed peas are extremely healthy and easy to make. You will try it once and will fall in love. A perfect and easy dinner recipe!
Ingredients:
Extra virgin olive oil
1 large yellow onion, chopped
4 garlic cloves, chopped
1 green bell pepper, chopped
2 to 3 carrots, peeled and chopped
1 15-oz can diced tomato
2 cups of water
1 dry bay leaf
1 1/2 tsp. ground cumin
1 tsp. dry oregano
1/2 tsp. paprika
Kosher salt and black pepper
1/2 tsp.  red pepper flakes, optional
2 15-oz cans black-eyed peas, drained and rinsed
1 lime or lemon, juice of
1 cup chopped fresh parsley
Directions:
Take a pot and heat olive oil in it. After it starts smoking add garlic and onion. Sautee for 2-3 minutes.
Now add bell pepper and carrots. Cook for 5 minutes.
Now add diced tomatoes, water, bay leaf, spices, salt, and pepper.
Increase the flame to bring it to a boil.
Add black eyes peas and boil for 5 minutes at high flame.
Now lower the flame and cover with the lid. Cook for 20-25 minutes on low flame.
The final step, add lemon juice and parsley.
Transfer in a serving bowl and enjoy.
Black-eyed peas can be served with boiled rice or warm Greek pita.
Black Eyed Peas Recipe – FAQs
_______________________________________________                               
Do black-eyed peas need to be soaked?
Soaking is not essential for black-eyed peas, but cooking time can be shortened if they get a quick soak in hot water. Place dried peas in a pot, cover with water, and bring to a boil for 2-3 minutes. Remove pot from heat and allow to stand for 60-90 minutes.
What can I add to Black Eyed Peas for flavor?
Garlic and onion — this common kitchen duo is commonly used to add flavor to black-eyed peas. Garlic is either chopped or minced to release the pungent flavor. Chopped onion is used to release sweetness, especially if it is sautéed first. Together, they combine to add flavor and enhance the overall dish.
What seasonings go well with Black Eyed Peas?
The most common herbs used with black-eyed peas include parsley, rosemary, thyme, sage, and savory. They can be used fresh — often, they're chopped fine and tossed with a salad. They also add flavor to black-eyed peas in stew, soups, and casseroles. Ginger is often added to fritter and bean cakes to give zing.
What happens if you don't soak Black Eyed Peas?
Soaking is not essential for black-eyed peas, but cooking time can be shortened if they get a quick soak in hot water. Drain water and replace with fresh, cold water for cooking – or if you skipped the hot-soaking step, just rinse and add cold water.
Servings
6
Calories in serving
190
Prep
2 hr
Cook
50 min
← Previous
Corn Chowder Recipe
Next →
Peanut Brittle Recipe