Macarons Recipe
Batter
| | | |
| --- | --- | --- |
| powdered sugar | | 1 cup |
| powdered almonds | | ½ cup |
| unsweetened cocoa powder | | 3 tablespoons |
| large egg whited at room temperature | | 2 |
| Pinch of salt | | |
| granulated sugar | | 5 tablespoons |
Chocolate Ganache Filling
| | | |
| --- | --- | --- |
| heavy cream | | ½ cup |
| bittersweet chocolate, finely chopped | | 4 ounces |
| unsalted butter | | 1 tablespoon |
| instant coffee (optional) | | 1 teaspoon |
Delicate and delicious macaroons for you and your loved ones, even the thought is enough to cheer you up. Skip the trial and error part of macarons making with easy to follow the recipe for beginners. Let's get started.
Origin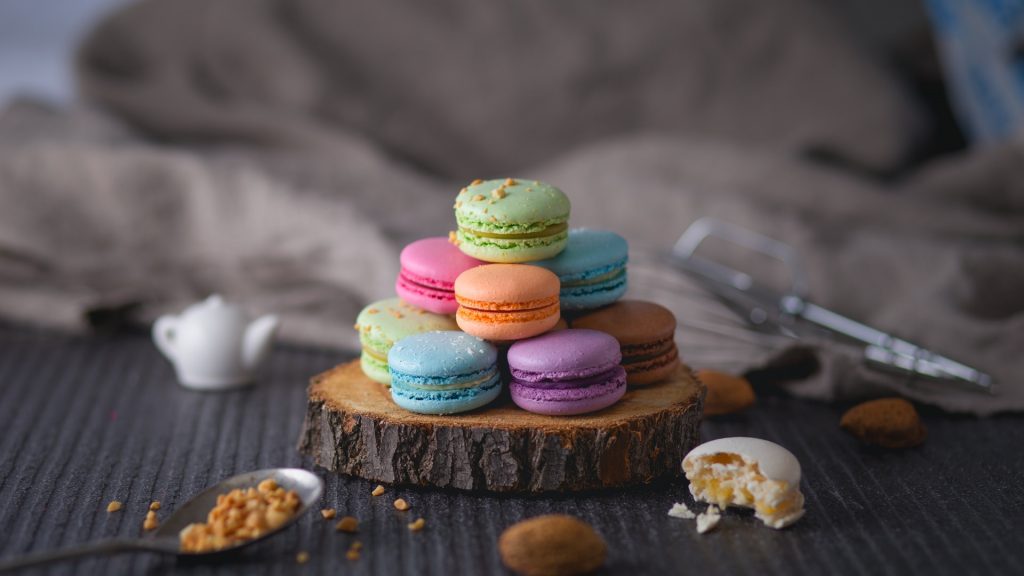 The word macaron is derived from the Italian word, Maccarone, meaning fine dough. It's believed that the macaron cookie was born in Italy and brought over to France as early as 1533.
Ingredients
Batter
1 cup powdered sugar (125g)
½ cup powdered almonds (50g)
3 tablespoon unsweetened cocoa powder (25g)
2 large egg whited at room temperature (66g)
Pinch of salt
5 tablespoon granulated sugar (75g)
Chocolate Ganache Filling
½ cup heavy cream (120g)
4 ounces bittersweet chocolate, finely chopped (120g)
1 tablespoon unsalted butter (14g)
1 teaspoon instant coffee (optional)
Procedure
Batter
Sift together the powdered sugar, cocoa powder, salt, and almond powder. Put them in a food processor and grind well until smooth mixture formed and no lumps are left.
Whip the egg with a pinch of salt in it until frothy and gradually add your sugar while mixing (about 2 minutes)
Fold the dry ingredients in batches into the beaten egg mixture with a spatula. When the mixture is smooth, stop folding and scrape the batter into the pastry bag.
Now you can pipe your macaroons onto your parchment paper and bake. Hold your tip straight up in the center of a circle, about 1/4th away from the paper, and squeeze until the circle then lift straight up quickly to break the batter off.
Rap the baking sheet a few times firmly on the countertop to flatten the macaroons and remove air bubbles. Allow the macaroons to sit for 20-30 minutes until they are no longer wet when touched.
Bake for 10-15 minutes. Let them cool completely then remove the baking sheet.
Chocolate Ganache Filling
Take a small pan. Heat the cream and add coffee to it.
When the cream begins to boil, remove it from heat and pour all over chopped chocolate.
Wait for 1 minute and stir till smooth.
Stir in the batter. Let it cool completely before using it.
Spread a bit of batter on the inside of macaroons then sandwich them together.
Make them at least one day before serving.
Your delicious hot chocolate heaven macarons are baked. Time to savor the delight with a cup of tea or a coffee!
Macarons – FAQs
___________________________________________________________________
Can you use regular/coconut flour for macarons?
Unfortunately, you can't, because the texture and taste would differ too much.
What can I substitute for almond flour in macarons?
You can replace it with pumpkin seeds, in a 1:1 ratio. Just grind them into dust.
Can you use granulated sugar for macarons?
The finer sugar is, the less it tears your macaron apart, so it is advised to use fine or superfine sugar.
Servings
3
Calories in serving
173
Prep
30 min
Cook
20 min
← Previous
Crispy Waffles Recipe
Next →
Red Velvet Cake Recipe