Quick and easy Paleo diet recipe ideas
Paleo diet recipe ideas
Paleo diet, also known as paleolithic, caveman, hunter-gatherer diet, and so on, is based on the premise that changing our eating habits to what people ate during the early Stone Age is best for a healthy body and mind.
In layman's terms, the discordance hypothesis states that mankind's evolution came to a halt 10,000 years ago when human dietary habits shifted from hunting to farming, resulting in a slew of physical ailments and diseases caused by the human body's inability to process farm produce.
The supporter of the paleo diet promotes the idea of going back to the ancient diet plan to restore digestive balance.
Why Paleo?
Much of the focus with the Paleo diet is about achieving optimal health. While there is a wide variety in the types and amounts of foods eaten, the diet encourages lots of vegetables and some fruit, moderate cuts of meat and seafood, reduced sugar/processed carbs, nuts and seeds, and only small amounts of high sugar fruits, starchy tubers, and milk product.
Consistently eating a nutrient-dense diet encourages many critical bodily functions that promote health.
The impact of the paleo diet on diseases like diabetes, hypertension, and asthma has shown promise. Generally speaking, people consuming a paleo diet are more likely to be healthy and show a decrease in blood pressure than those who do not. In addition, cardiovascular health is also improved for the most part as it reduces LDL levels.
Due to the diet's proven benefits and popularity, a number of paleo-approved meal delivery services have sprung up to meet the needs and tastes of people who are considering making it a permanent part of their lifestyle.
People have also noticed that their weight loss progress has stabilized, their cravings for unhealthy food have decreased, followed by a boost in their energy levels, sound sleep, and the sense of calmness they haven't experienced in years.
This is not a miracle; it is a physiological effect of low calories, high proteins, and salt's absence.
How does the paleo diet work?
The benefits of the Paleo Diet come from the fact that you're avoiding processed foods, sugars, and other unhealthy ingredients.
In addition, the Paleo Diet supports healthy cholesterol levels, improved blood glucose control, and satiety – all of which may have a significant impact on a person's health and well-being.
Allow us to share some of the healthy paleo recipes from our cookbook with you so that you can try them out in your own kitchen and reap the benefits of this modern yet ancient diet plan.
Broiled Paleo salmon – Serves -4 – 20 min.
Ingredients:
* Salamon fillet – 4
* Grainy Mustard paste – 2 Tbsp.
* Minced Garlic – 2 cloves
* Minced Onion – 1 Tbsp.
* Chopped Thyme leaves – 2 tsp.
* Lemon Juice – 1 Tsp.
* Chopped Rosemary – 2 Tsp.
* Kosher Salt and pepper – As per taste
Cooking Instructions
Preheat the broiler at 475f temperature while lining the backing tree with a sub-foil.
In a bowl, mix all the ingredients, spread it over the salmon, and leave it for 10 minutes.
Cook it for 7 to 8 minutes in the broiler.
Garnish it with a slice of lemon and thyme as a final touch.
Juicy Paleo Meatloaf – Serves 6 – 55 minutes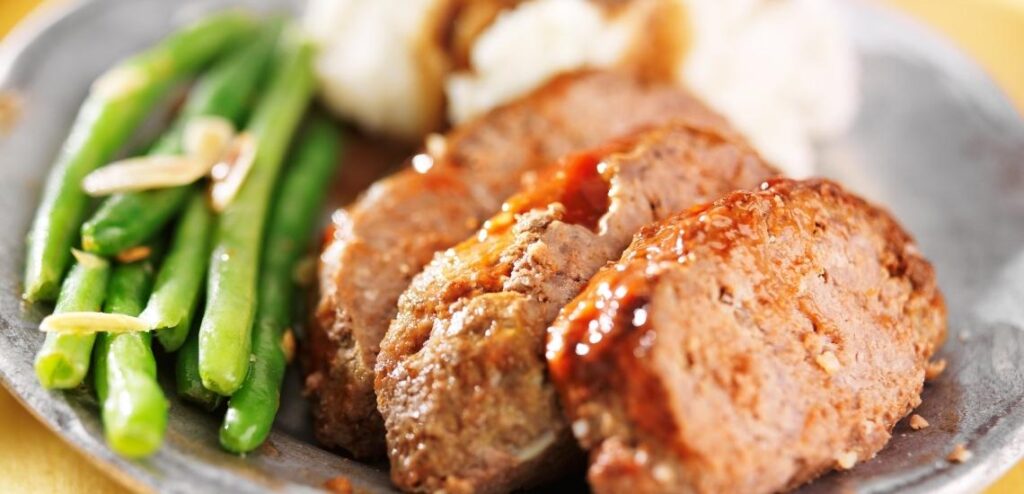 Ingredients:
*Cooking Spray
* Extra-virgin olive oil – 12 Tbsp.
* Chopped Onion – 1
* Minced Garlic – 3 cloves
* Oregano – 1 Tsp.
* Kosher Salt & Black Pepper – As per taste
* Beef – 2lb
* Almond flour – Half cup
* Eggs – 2
* Coconut aminos – 2 Tbsp
* Tomato Puree – 1/4th cup
* Apple Cider vinegar – 2 Tbsp.
* Garlic powder – 1/2 Tsp.
* Mustard Powder – 1/4 Tsp.
* Cayenne pepper – Pinch
Cooking Instructions
Preheat the oven to 3500 and line the pan with the sub foil while greasing it with cooking spray.
In a frying pan, heat oil and cook onion and garlic until it turns tender for 5 minutes, and add salt, pepper, and oregano.
Take a large bowl and put beef, almond flour, eggs, 1 tbsp., coconut amino, mix the onion, garlic mixture, and add salt and pepper for seasoning.
Whisk tomato puree, vinegar, 1 tbsp coconut amino with garlic powder, mustard powder, and cayenne. Add salt and pepper.
Spread the mixture over the meatloaf.
Bake till the internal temperature reaches 1550 for 55 minutes and allows it to cool for 15 more minutes before serving.
Crispy Paleo Pizza – Serves 4 – 30 minutes
Ingredients:
*Almond flour, plus more for dusting – 2 ½ Cup
1/2 tsp.
*Baking powder – 1/2 Tsp.
*Italian seasoning – 1 tsp.
*Large pinch garlic powder
*Kosher salt – 1/2 tsp.
* Large eggs – 3
* Extra-virgin olive oil – 2 tbsp.
* Pizza sauce – 1/2 cup
* Shredded dairy-free mozzarella – 1 cup
* Pepperoni slices – 1/4 Cup
* Small red onion, thinly sliced – 1/4
* Small green bell pepper, thinly sliced – 1/2 Cup
* Sliced black olives – 1/4 Cup
* Sliced Cremini mushrooms – 2
* Pinch red pepper flakes
Cooking Instructions
* Preheat the oven to 4250 with a baking tray in the third top shell and whisk almond flour, baking powder, Italian seasoning, garlic powder, and salt as per taste.
* In the second bowl, whisk eggs and olive oil and mix with the dry ingredients till the dough is formed.
* Roll the dough while putting the parchment paper on the bottom till it reaches ¼ inch thickness.
* Discard the parchment paper on the top, slide the dough on the baking sheet with the parchment paper as a base, and bake it for 10 minutes until the crust gets golden light.
* Change the oven setting to broil and heat for 2 minutes until the cheese gets golden.
*Spread pizza sauce on the crust, put mozzarella and vegetables, and bake it in the oven for 10 minutes until the cheese melts and the crust gets golden.
* Serve it hot and crispy after garnishing it with red pepper flakes.
← Previous
Sweet Potato Casserole in Crock Pot