Rainbow Paradise Cocktail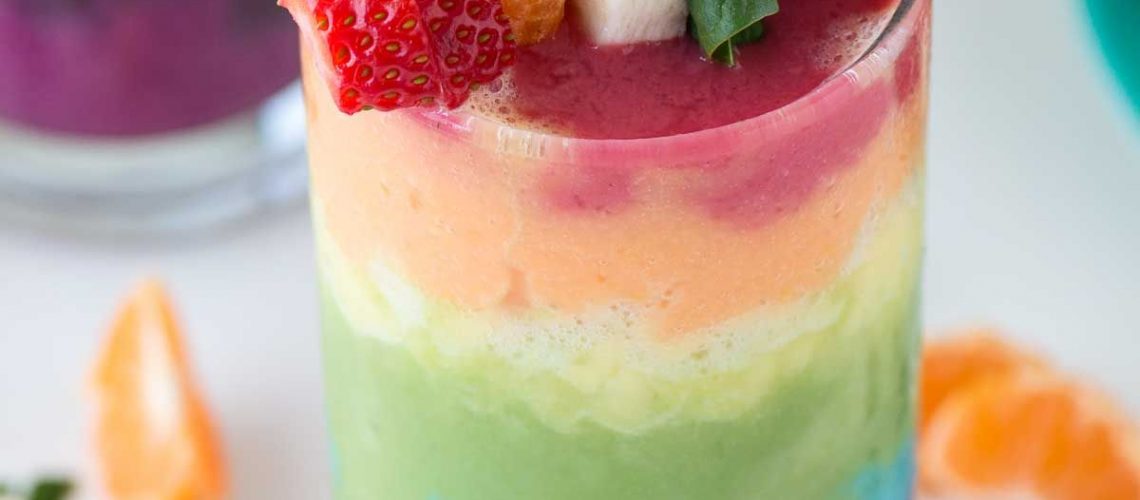 Rainbow Paradise Cocktail
| | | |
| --- | --- | --- |
| grenadine | | 1 ounce |
| crushed ice | | 1 cup |
| Hy-Vee 100% no-sugar-added pineapple juice, chilled | | 4 ounce |
| coconut-flavoured rum | | 2 ounce |
| water | | 1 ounce |
| blue curacao | | ½ ounce |
| Orange slices | | in your taste |
Rainbow paradise cocktail is a rainbow-like glacier in a glass that gives you refreshment on a single sip. You just need some simple ingredients and layer making skills for this rainbow paradise cocktail and you are done. So, let us lead your way to the sip of refreshing rainbow paradise!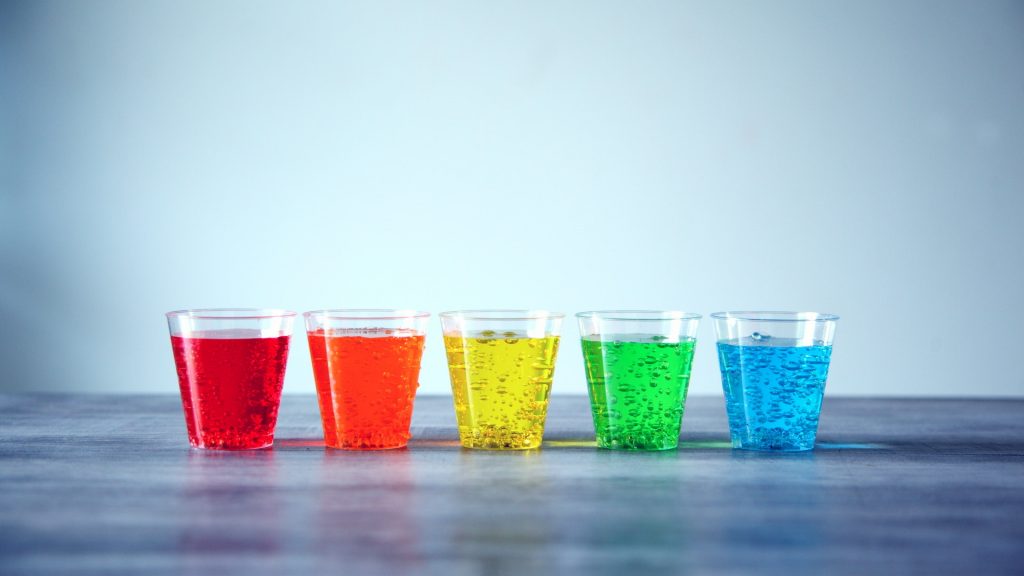 Prep time: 5 minutes
Serving: 1
Ingredients
1-ounce grenadine
1 cup crushed ice
4-ounce Hy-Vee 100% no-sugar-added pineapple juice, chilled
2-ounce coconut-flavored rum
1-ounce water
½ ounce blue curacao
Orange slices
Instructions
Fill a glass with ice and pour in grenadine.
Combine coconut rum and pineapple juice and pour into glass.
Combine water and blue curacao and pour it as a third layer. Serve!
Rainbow Paradise Cocktail – FAQs
______________________________________________________________________________
How do you drink layered drinks?
Starting with the heaviest liquid in the drink—or the liquid with the most sugar content—pour the first layer into the glass. To add a second layer, place a spoon upside down inside of your glass—near, but not touching the first layer of alcohol—and very slowly pour the second liquid over the spoon.
What is in a rainbow paradise cocktail?
The main ingredients are:
1-ounce grenadine
1 cup crushed ice
1 1/6 oz (7 parts) Gin
4-ounce pineapple juice, chilled
2-ounce coconut-flavored rum
1-ounce water
½ ounce blue curacao
Orange slices in your taste
Can Tequila be mixed with juice?
Grapefruit juice is best mixed as 3 parts juice and 2 parts tequila. Seltzer or club soda can provide a nice base and enhance the flavor, while a lime slice is great at adding complexity to the grapefruit taste. Use grapefruit soda with tequila and it's called a Paloma. So refreshing!
What effect does shaking a drink have?
At its most basic, shaking is about mixing, chilling, and diluting a cocktail (typically one containing "cloudy" ingredients, such as juice, cream, or egg white) by agitating it with plenty of ice. But shaking is also what gives a drink its texture—meaning that a shake can help aerate, emulsify, and integrate ingredients.
Does tequila taste good with ginger ale?
Tequila and ginger ale is a surprisingly delicious combination. Especially with lime and salt. Think of this as the ginger lover's margarita
What makes a rainbow shot?
Believe it or not, the rainbow shot isn't made with snake oil and unicorn tears. It's a vodka drink — and not a very strong one, at that — made by layering grenadine, sweet and sour mix, orange juice, vodka, and blue curacao in a cocktail shaker.
How do you make tequila taste better?
If you just want to make bad tequila taste good you need a citrus juice – lime, grapefruit, or orange, some agave nectar for sweetness, and plenty of ice.
Servings
1
Calories in serving
300
Prep
10 min

← Previous
Sex in the Driveway Cocktail 🚗