7 New Ways To Enjoy Coffee
Almost everyone appreciates a cup of coffee to help them get their day started right. It will be a fantastic energy booster that will help them feel pumped and energized every day. While a cup of joe is undoubtedly a terrific method to get a caffeine boost, it is ideal to allow yourself to experiment with different types of coffee.
Ways To Enjoy Coffee
The first thing that comes to mind when you hear the word "coffee" is the one you put on a mug. While they are a popular beverage, you can always explore other coffee options for self-enjoyment or a new business idea. This will allow you to experience coffee in new ways and break free from its traditional taste and texture. With that, listed below are some cool new ways to enjoy coffee:
1. Create Coffee Candy
If you like sweets, you'll probably like making coffee candies you can carry everywhere you go. This is a terrific snack that you can bring with you at any time of day and share with others. This way, you may have a quick dessert and a caffeine kick without having to drink from a cup, which is convenient.
As you create coffee candy, you can keep it for yourself or sell it to family and friends, giving you a new source of revenue. However, you must exercise caution when selecting the appropriate packing to guarantee that the candies arrive in perfect shape. Checking Coffee Bags & Packaging and other similar providers within your area may help you decide which packaging is best for your candy.
2. Prepare Coffee Ice Cubes
If you're searching for a fresh way to enjoy your iced coffee, you might want to try flipping your typical technique on its head. Instead of combining your coffee and milk before tossing in some ice cubes, which may dilute the drink's flavor after a few minutes, consider making coffee ice cubes.
You must pour your coffee into ice cube trays, wait for them to set, and then place them in your favorite glass with your preferred milk. This is ideal for folks who frequently forget they have iced coffee or take an eternity to complete their cup. This could keep your drink from becoming watered down, providing you intensity every minute.
3. Make Coffee Jelly
Making coffee jelly is an excellent method to change a cup of coffee into a treat. This is the treat for you if you're searching for something sweet and tasty with a caffeine boost. They're also quick to produce, taking about two to four hours, depending on how quickly your jelly solidifies.
To make coffee jelly, you only need instant coffee grounds, sugar, and gelatin. This should help in the creation of the jelly, which will be left to firm for two to three hours, depending on how stiff or soft you want your jelly to be. When you've found the proper jelly shape, cut it into cubes and combine it with your favorite milk. You should serve them chilled for the best-tasting flavor.
4. Experiment With Different Milk Types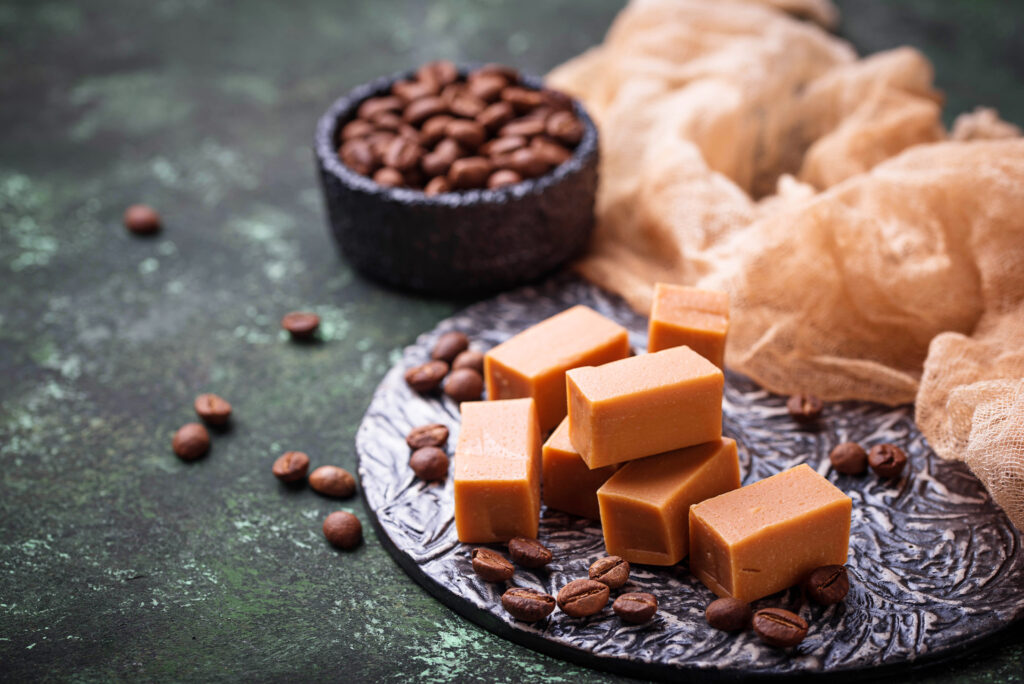 While this is more of a personal preference, experimenting with different milk types can help you achieve diverse coffee flavors. If you're used to adding fresh milk to your coffee, utilizing milk substitutes like oat, almond, and skim can help give your coffee a different flavor, allowing you to enjoy your new coffee even more.
As you experiment with different milk types, you may give your coffee varied flavors while also allowing it to change the texture. You can put them in your cup or in a blender to make a wonderful frappe. To top it all off, you can always pair it with your favorite snack or pastry and enjoy your coffee even more.
5. Add Blueberries
When it comes to flavoring milk, adding fruits or other types of berries may not be everyone's first option. You could limit yourself to selecting different syrups to attain your preferred flavor. However, if you're feeling adventurous, you might try adding blueberries to your coffee to give it a fresh fruity twist.
To incorporate blueberries, blend them until smooth. Place them in a saucepan with the sugar and bring to a boil for two minutes. For extra taste, squeeze in half a lemon and strain through a mesh strainer to create a blueberry syrup. This will enhance the flavor and scent of your coffee by giving it a fruity flavor.
6. Create Iced Coffee Popsicles
Making iced coffee popsicles is a terrific summer treat that you can make using coffee. This way, you can gain a new perspective on how to enjoy your iced coffee while keeping it as cool as possible. They're simple to create at home and result in a delightful frosty treat!
To make iced coffee popsicles, simply prepare your favorite iced coffee and pour it into a popsicle mold. Place them in the freezer for three to four hours, or until they solidify, before serving. However, keep them away from children because the caffeine content isn't good for their bodies.
7. Bake Espresso Brownies
While chocolate is the primary component in brownies, this does not limit your alternatives. With so many things you can put in brownies, such as marshmallows and almonds, you might want to consider adding a hint of coffee for a nice caffeine spike. You can make your brownies tasty and stimulating at the same time this way.
Making espresso brownies will undoubtedly improve your baking skills as you experiment with different varieties of brownies. You could add a good number of chocolate chips for more flavor, giving it the perfect mocha flavor and making it taste like no other.
Takeaway
Coffee has a great distinct flavor that virtually everyone enjoys. Experimenting with the various ways you may use coffee to improve your baking, cooking, and crafting skills can help you break free from having a cup of joe every morning. Aside from playing with different flavors and milk, you can always try to get your hands dirty in the kitchen by baking brownies and chocolates. While some may involve a lot of trial and error, attaining delectable results will definitely make your mouth crave for more.