Day 16 of Healthy Meal Plan – What to eat today?
Breakfast
Healthy eating is one of the best things you can do to prevent and control health problems. Here is another perfect Healthy Meal Plan to keep you healthy and fit.
Oats have always been everyone's favorite.
But some of us are tired of old recipes. Here is another recipe that everyone would love and is healthy at the same time.
Chocolate and Banana Overnight Oats
Disclaimer: To prepare this mouth-watering recipe, it is better to prepare it one night before so you can leave, it refrigerates overnight. This makes it nice, smooth and frozen.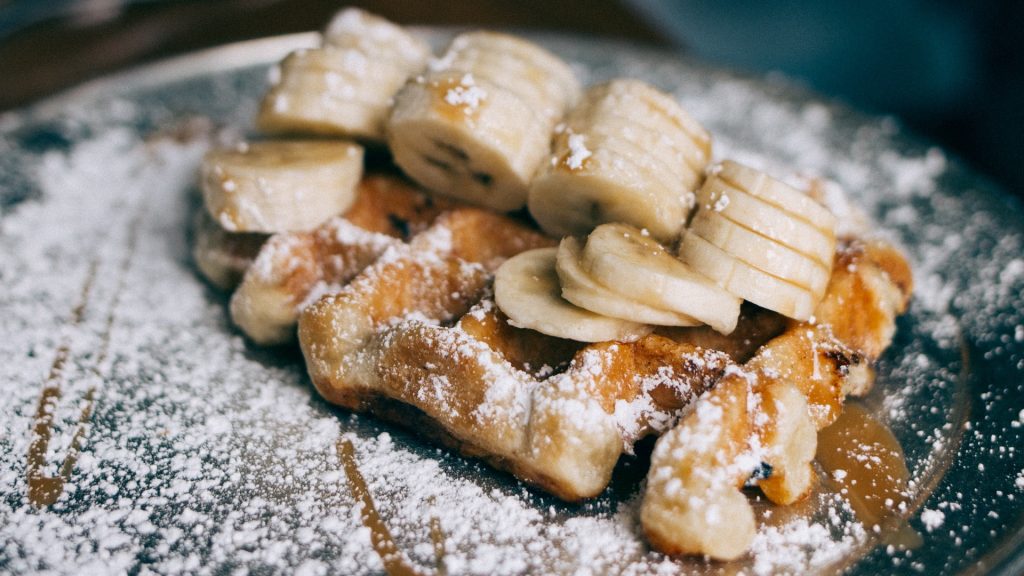 You need:
½ banana
½ cup rolled oats
Pinch of salt
½ cup almond milk
1 tbsp. cocoa powder
1 tbsp. chia seeds
¼ cups Greek yogurt
1-2 tsp. maple syrup
Take a bowl and throw all ingredients in it. Mix everything well. Pour it into a bowl and refrigerate it. After it is chilled, top it with banana, strawberries, and enjoy!
Lunch
Chickpea Spinach Salad
Ingredients needed:
4 oz. chicken breast
1 tbsp. olive oil
¼ tbsp. paprika
¼ tbsp. oregano
¼ tbsp. cumin
Salt and pepper
2 oz. Spanish
3 oz. chickpeas
6 grape tomatoes
1 tbsp. vinegar
½ tbsp. mustard
Directions to follow:
Take a bowl to marinate chicken breast and add 1 tbsp. olive oil, ¼ tbsp. paprika, ¼ tbsp. oregano,¼ tbsp. cumin and Salt.
Take a baking tray and place chicken breast over it, bake for 20-15 minutes at 180 degrees.
Now take spinach, chickpeas, and tomatoes in a bowl.
Make the dressing by using vinegar, mustard, salt, and pepper.
You can drizzle dressing over spinach bowl and mix.
Take a serving dish and make a bed of vegetables.
Take the baking tray out of the oven and cut it into long strips.
Put it over the vegetable bed and you are ready to eat!
Dinner
Green beans are low on calories and are a good source of vitamin C and K. Here is another vitamin-rich recipe to boost up your healthy food plan.
Chicken With Green Beans
You need:
Two carrots
1 tsp. olive oil
2 tbsp. chicken broth
3 oz. green beans
One clove garlic
One chicken breast (cut into cubes)
Salt and pepper
Crushed red pepper
Directions to follow:
Take two carrots and cut them in medium-sized cubes.
Now heat some olive oil in a frying pan.
Fry carrots for 2-3 minutes and then add chicken broth and cover the pan.
Take beans and cut them.
After 1-2 minutes remove the lid, add beans and cover the pan again. Now turn off the flame after 2-3 minutes.
Take another pan and add some olive oil.
Add chopped garlic and chicken cubes and fry until chicken is cooked.
Now mix vegetables and chicken. Sprinkle salt and pepper to taste and serve!
Summary Healthy Meal Plan
In a nutshell, this article leads your way to keep a balanced diet throughout the day with some healthy yet delicious recipes. Also, you can add or skip anything according to your choice but keep in mind to have nutritious meal intakes.
So, don't feel disappointed if you don't stick to this exact meal design. You can do variations that fit your lifestyle and requirements.
But believe me, this everyday healthy meal plan is all that you need!
A healthy diet makes a healthy body and a healthy body has a healthy mind. Interesting, isn't it? So, stay fit and stay healthy.