Cobb Salad recipe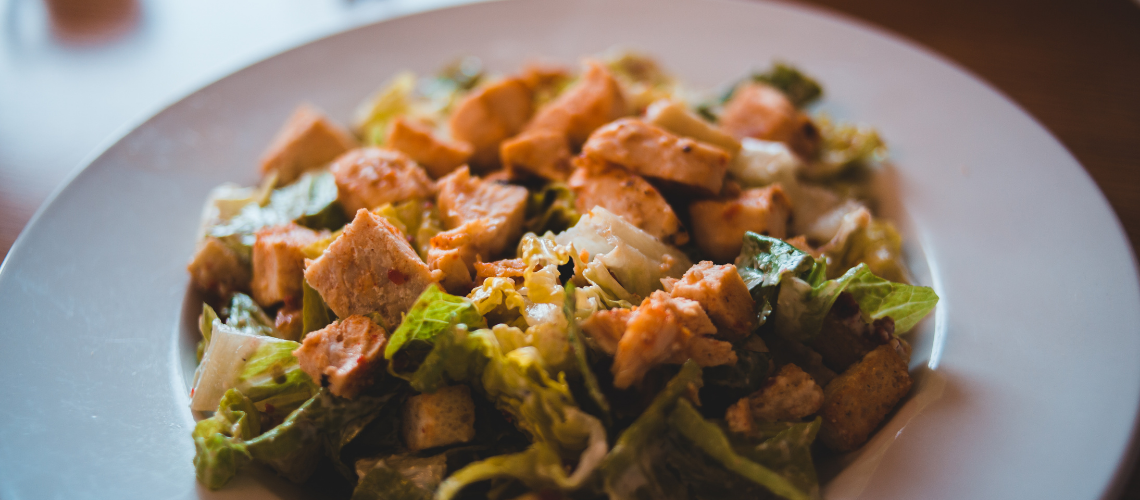 For the dressing;
| | | |
| --- | --- | --- |
| small shallot, thinly sliced into rings | | 1 |
| red-wine vinegar | | 3 tbsps. |
| Kosher salt and ground pepper | | |
| whole grain or Dijon mustard | | 1 tbsp. |
| olive oil | | 3 tbsps. |
For the Salad and assembly;
| | | |
| --- | --- | --- |
| large eggs | | 4 |
| ounces thick-cut bacon | | 10 (about 8 strips) |
| ounces boneless, skinless chicken breast | | 12 (about 2 medium breasts) |
| Head romaine lettuce, torn into bite-sized pieces or coarsely chopped | | 1 |
| ounces small to medium tomatoes , sliced or quartered | | 6 |
| avocado, thinly sliced or chopped | | 1 |
| ounces blue cheese, crumbled | | 4 |
| finely chopped chives | | 3 tbsps. |
Direction
To make the dressing, whisk together all of the ingredients in a large mixing bowl. After coating shallot rings in vinegar, season them with salt and pepper. Allow the shallots to gently pickle and the vinegar to infuse for 5 minutes. To mix the mustard and 3 tablespoons olive oil, whisk them together with a fork. Season with salt and pepper as needed.
Bring a small pot of water to a rolling boil. After gently lowering in 4 large eggs, bring to a boil for 8 minutes. Remove the pan from the heat and cool quickly in cold water. (It's also a good idea to put a few ice cubes in the bowl.) After the eggs have been thoroughly chilled, peel them and set them aside before assembling the salad.
In the meantime, cook the bacon in a large skillet over medium heat for 8 to 10 minutes, or until crispy on both sides. Allow bacon to cool on a paper towel-lined plate. When the bacon is cool enough to treat, coarsely cut it and set it aside.
All but about 2 tablespoons of bacon grease should be drained from the skillet. (Toss the grease that has been drained or save it for another use.) Season the chicken with salt and pepper, then cook it in the same skillet over medium–high heat for 12 to 15 minutes, or until both sides are well browned and cooked through. Place the chicken on a large cutting board or tray.
Transfer any drippings from the skillet (at least 2 tablespoons) to the bowl with the vinaigrette and whisk to combine, adding more olive oil if necessary.
Shred the chicken into bite-sized pieces until it has cooled enough to treat. (Alternatively, cut it into bite-size bits with a knife.) Hard-boiled eggs should be sliced or chopped.
In your largest serving bowl or platter, arrange lettuce. Toss half of the dressing over the lettuce and season with salt and pepper to taste.
Arrange the chicken in a straight line in the middle of the bowl or platter. On one hand, arrange the tomatoes, and on the other, arrange the eggs. Next to the chickens, place the avocado, and next to the tomatoes, place the blue cheese. Place the bacon in the bowl's middle. Spread the remaining dressing on top and garnish with chives.
Nutrition Facts
Serving Size: 2
Calories Per Serving: 520
% Daily Value
Total Carbohydrate
‏19g
7%
← Previous
Pork tenderloin sandwich recipe
Next →
Chicken fried steak recipe